The Best You's selection of must-reads or The Best You's top reads or The Best You's suggested reads
Super Juice Me! 28-Day Juice Plan
by Jason Vale
Called "The most effective juice diet in the world" by Hello! magazine, Jason Vale's 28-day plan has been specifically designed for those who need to lose a significant amount of weight or need to make considerable changes to improve their health. Guru Jason, also known as 'The Juice Master,' challenges anyone suffering from obsesity or a lifestyle disease to take this challenge, and he promises visible results in under one month. This book comes off the back of Jason's critically acclaimed film, Super Juice Me! The Big Juice Experiment, which saw eight people (with twenty-two different diseases between them) live on nothing but freshly extracted juice for 28 days. At the end of the experiment, every single participant experienced positive changes to their health conditions, with one participant losing a whopping 38lbs. Guru Jason, also known as 'The Juice Master,' challenges anyone suffering from obsesity or a lifestyle disease to take this challenge, and he promises visible results in under one month.
Karma & Diamonds
by Smita Joshi
Imagine Eat Pray Love meets Da Vinci Code and you are somewhere close to the feel of this powerful story by author, life coach and yoga instructor Smita Joshi. The novel tells the story of an awe-inspiring journey of self-discovery across continents and lifetimes. Smita is exceptional in showing, through her personal battles, how the inner self can guide and enrich daily life. The first book in a trilogy, her story begins when she is a little girl in India, and she recounts her first mystical experience when she thinks she is about to die. She survives, and later moves to London with her parents and finds herself torn between two different cultures and traditions. As an adult, Smita goes on a quest with gurus across the Himalayan foothills, and the book climaxes with her catapulted into a significant moment of history, where romance, science and mysticism meet. Will her struggle and quests have been for nothing? This is the definition of 'unputdownable'.
Unlock Your Life
by Dean Fraser
Anyone has the power to work hard in order to live a wealthier lifestyle, on that we can agree. But, as Dean argues in this accessible and focused book, 'wealthier' does not mean having a big bank balance; it's about being rich in all the different areas of your life. The core message of the book is that if you focus on what true wealth means you will be happier, healthier and more successful. Dean explores the passion needed to achieve goals, and explains why we must become detached from the ultimate outcome in order to get there. He cites the greatest martial artists in any discipline who practise controlled power, using strong analogy to guide the reader to understanding how this is the route to true empowerment. Dean also shares tried and tested methods to unlocking potential, such as taking control of your financial future, which require a "no quit" attitude. Dean's persistent encouragement to take responsibility for your own life feels powerfully inspiring.
www.facebook.com/unlockyourlife
Secrets of Meditation: A Practical Guide to Inner Peace and Personal Transformation
by davidji
From bestselling mindfulness apps such as Headspace, to growing numbers of people embarking on courses to learn the Transcendental Meditation, the meditation industry is booming. In this book, world-renowned meditation teacher davidji reveals the best practises for developing individual meditation techniques by tapping into the stillness and silence that rests within. In Secrets of Meditation, davidji demystifies, avoids jargon and guides the reader on an epic journey through their own consciousness. He also shares his own meditation journey along the path to awakening, and shares the impact it can have on physical health, relationships, emotional wellbeing and spiritual life.
Natural Solutions for Dementia and Alzheimer's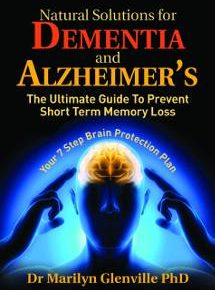 by Dr. Marilyn Glenville PhD
There are 850,000 people with dementia in the UK, with that number set to rise to over 1 million by 2025. In this sensitively written book Dr. Matilyn Glenville gives a compelling argument as to why taking action sooner, rather than later is crucial in helping prevent memory loss and reduce the risk of developing dementia and Alzheimer's. Marilyn offers a practical easy-to-follow 7 Step Brain Protection Plan consisting of simple lifestyle and nutritional changes that everyone can implement. In doing so, she sheds light on often misunderstood illnesses, and offers sufferers and their loved ones a clear and practical guide. If you have a family history of dementia or Alzheimer's and want to take steps now to delay cognitive decline, this is an important read.